The Spread and Scale Academy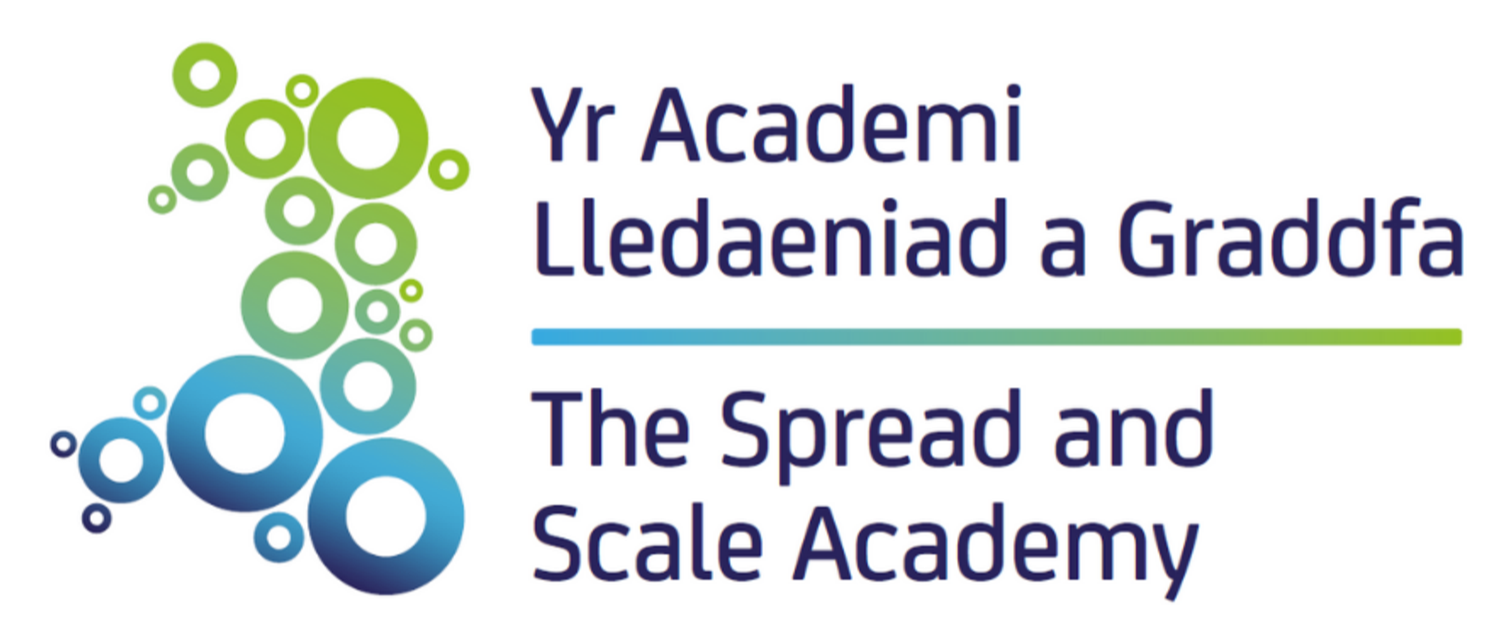 The Spread and Scale Academy is returning to Wales in on the 10th, 11th, and 12th March 2021. Hosted by Cardiff and Vale University Health Board, Life Sciences Hub Wales and the Bevan Commission in partnership with the Billions Institute, the Academy is an immersive three-day training event open to teams from all Welsh Health Boards and NHS Trusts.
What does Spread and Scale mean?
The NHS workforce in Wales is passionate, motivated and developing more innovation and improvement projects than ever. This has been especially true during the COVID-19 pandemic with innovation happening almost everywhere to meet the needs of our patients and public.
Once your team has proved that your project is successful in your area, where do you take it next so that more people can benefit, and how?
Spread and scale is about widening the reach of your developed project and giving you the tools you need to lead adoption at scale across your organisation, region or across Wales. The Spread and Scale Academy can support you to take the next step, driving transformative change with strong leadership, good practice and new models on a national level.
How will the academy work?
Due to the ongoing COVID-19 pandemic, the next Spread and Scale Academy will be held virtually using the Zoom platform. We're asking teams of delegates to bring an open mind, enthusiasm and energy to this immersive, virtual event. Delivered by international trainers from the Billions Institute, the programme is just as much about developing your personal skills and career potential as it is about developing your project.
The Billions Institute is the pioneer of the Model for Unleashing, which encourages innovators to 'Dig Deep' into their motivation for change and 'Dream Big' about where they'd like to take their project. You'll gain the support you need to unleash your potential and lead the charge for large-scale change in your area.
Listen to the Life Science's Hub podcast about the last Spread and Scale Academy to find out more about what to expect and why you should apply,
What are last year's delegates saying about the Academy?

"It made me see that I wasn't wrong to think about trying to improve or thinking big. If anything, I needed to think bigger. I met people who internationally have achieved these amazing things and faced many of the same challenges in different guises, and I felt like I was on the right track. I was being affirmed and recognised as someone who has some valuable skills." – Consultant in Palliative Care
"The event was really helpful, allowing me to do some networking, and the training taught me a lot about myself. The most important learning I took away was about recognising my attitude to implementing change and how this differs from other people – I realised I could often unwittingly block input from others. I found the personal journey quite emotional." – Specialist Podiatrist
"It was the best thing I've attended in my career by a long way. It really helped us to realign our focus and do so around like-minded people. It took me out of my comfort zone, pushing me to explore how my personality and other personalities within the team could influence the outcome. These are all things you don't normally consider, such as how can we make best use of people's strengths and where will they need support to stay on track? It also got us to consider how we can get others outside the organisation to buy in and see the benefits of what we're doing." - Specialist Physiotherapist
"I've taken a lot of courses around leadership and development, but the Academy was one of the most valuable courses I've ever attended. It has been a year since the event, but I still remember what I learned very clearly, and it has informed the way I go about my day now. With Covid-19, we had no past experience to shape our thinking and it was quite overwhelming, but the Academy taught me to focus on what is important today. It has helped me to be more self-aware and think about how I react, so I can take a more considered approach." – Director of Nursing
How to become an academy delegate

Are you eligible?
Applying for the Spread and Scale Academy is a competitive process with only 50 highly sought-after places available. The ideal team will have a mature project or programme of work, and will be motivated to unleash their project at scale to improve the health and wellbeing of people within Wales. Applications are open to teams of 3-6 members. The lead applicant for each team must be a member of staff from within the Health Board or Trust, but other team members can be non-NHS staff, including patient representatives.

Apply
We've made the application process easy and applications open in the first week of January 2021. If you have any questions or you need further support to submit your application, email spreadandscale@wales.nhs.uk.

The selection process
The Spread and Scale Academy is open to applications from teams within any Welsh Health Board or NHS Trust who have a successful small scale improvement or innovation project that has the potential to lead to large-scale change. Delegates will be chosen via a panel of experts, and will be based on the potential of the project to spread and scale whilst ensuring that we have good representation across disciplines.

Next steps
If selected as a delegate you'll have a short online induction on the 23rd February (3:30pm - 5pm), then you'll take part in the 3-day event between 10am and 6pm on the 10th, 11th and 12th March. Regular guidance is offered for a year to enable you to effectively and sustainably unleash your project.